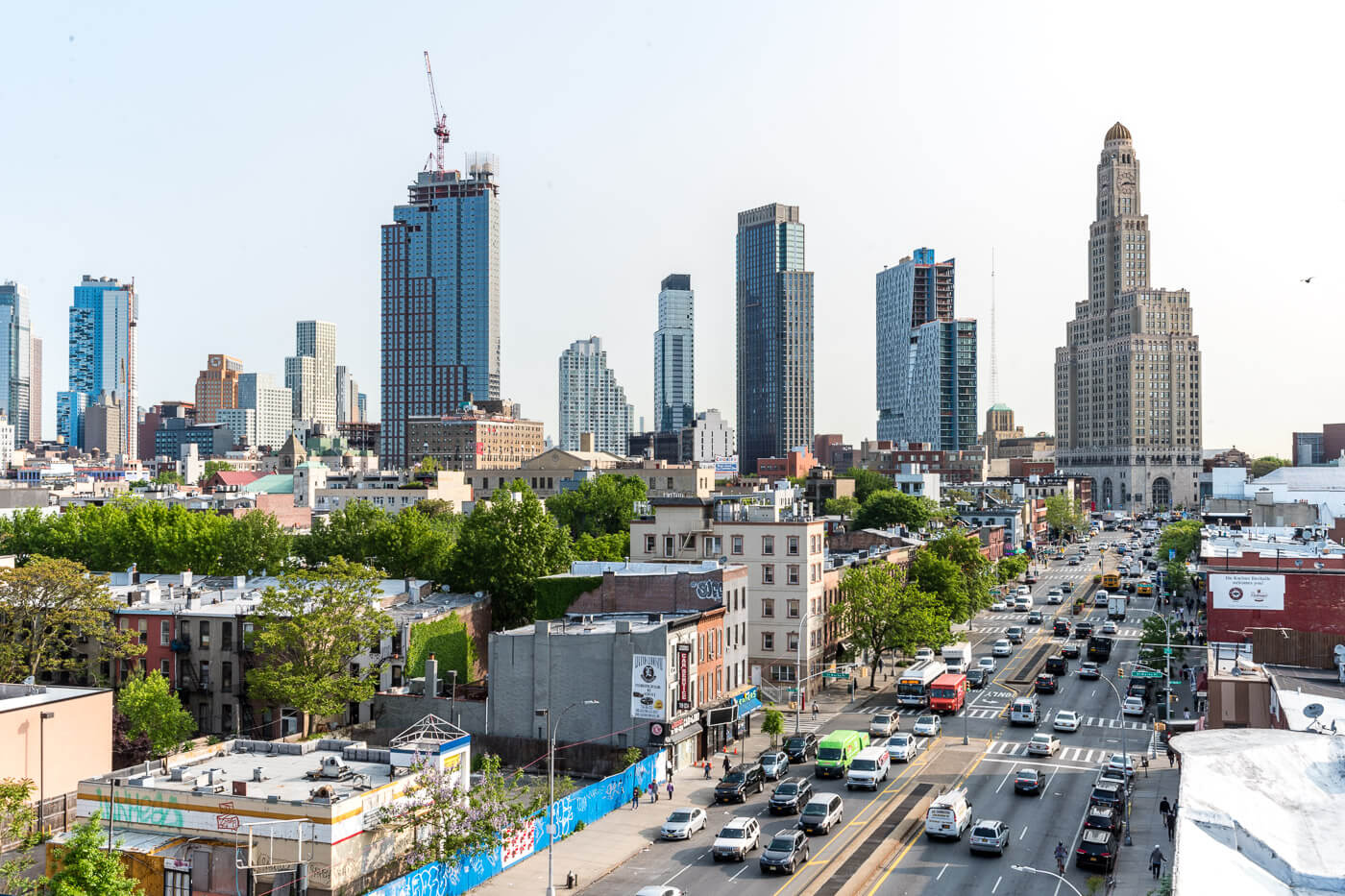 By ALAN S. OSER
TEN years ago, when Karen Brenner first moved to Park Slope, she settled in a rented one-bedroom floor-through on Third Street between Fifth and Sixth Avenues. In 2001 she moved again. She bought a two-bedroom apartment in a newly built 36-unit condominium called Park Slope Estates on Second Street between Fifth and Fourth Avenues.
To outsiders that might not seem like a big change. Geographically, it isn't. But Park Slope residents long believed that housing down the slope from Fifth Avenue was much less desirable than housing on the more easterly blocks off Sixth, Seventh and Eighth Avenues as far as Prospect Park West at the park itself. Fifth Avenue was dismal as a commercial street, and it was a psychological boundary from the standpoint of housing value.
In the last three years or so, this has changed.
"Fifth Avenue is becoming the new trendy street, like Smith Street in Carroll Gardens," said Ms. Brenner, a television editor in her 30's. "In 1991 you wouldn't go there at night to find a hamburger. Now you can get a full meal any time of day."
You can also find new housing on the side streets, as Ms. Brenner did. For the striking phenomenon in Park Slope, especially though not exclusively between Fifth Avenue and Fourth Avenue, is the presence of new construction on large midblock parcels of the Lower Slope.
Most of the buildings recently completed or in construction are on land that was formerly vacant or else occupied by commercial buildings.
Over the last year buyers have been paying about $335 to $440 a square foot for new apartments throughout Park Slope, based on 36 closings, said Peggy D. Aguayo of the firm of Aguayo & Huebener. Based on 43 sales now under contract, prices have risen to $368 to $535 a square foot, she said. Last month, for example, a buyer paid $369,985, or $406 a square foot, for a 910-square-foot two-bedroom two-bath condominium under construction on Sackett Street. Occupancy is to start in the spring.
Now a rezoning adopted in April has set in motion plans for new 12-story buildings along Fourth Avenue. The rezoning encompasses most of the blockfronts from Warren to 15th Street, on both sides of the street, excluding those with significant commercial or industrial activity. The rezoning also adjusts regulations between Fourth Avenue and Prospect Park West to assure the preservation of low-rise buildings. (Details of the rezoning, Page 7.)
"This was a perfect opportunity to balance preservation with growth," said Amanda Burden, chairwoman of the City Planning Commission. "We were beginning to see some sore-thumb buildings, while Fourth Avenue could accommodate apartment-house construction." Contextual rezoning was adopted for northern Park Slope blocks in 1992, but the new rezoning extends the concept to a far larger area.
The city councilmen from Park Slope — David Yassky and Bill de Blasio — expressed satisfaction about the new zoning in general but disappointment in its failure to require builders to provide a certain amount of moderate-income housing in exchange for the right to build taller structures on Fourth Avenue. "We're concerned about the need to maintain economic integration," Mr. Yassky said.
Mr. de Blasio noted that the Bloomberg administration had agreed to make funds available to create 133 units of moderate-income housing within the new zoning district in the next five years.
As broadly defined by brokers marketing real estate there, Park Slope runs all the way from Flatbush Avenue on the north to the Prospect Park Expressway on the south, and from Prospect Park and Prospect Park West to Fourth Avenue on the east. The April rezoning actually goes as far as Third Avenue on some blocks, and only to 15th Street on the south.
While census tracts do not precisely coincide with these boundaries, the area had an approximate population of 62,200 in 2000, and there were 29,800 housing units. Over 20 years, the population has declined but the number of housing units has increased. The 1980 census showed a population of 65,200 and 29,000 housing units.
The population decline reflects the influx of younger people replacing older households, bringing a drop in average household size. "There's been an influx of a lot of singles and people living with roommates," said Joseph Salvo, director of the population division of the Department of City Planning.
Concurrently, the new arrivals have raised the proportion of college graduates in Park Slope. They were 60 percent of the people over the age of 25 in 2000, census figures show. In 1990 they were 49.5 percent.
HISTORICALLY, the most desirable blocks, with the highest housing prices, have been along the park and on the park-bounded side streets from President Street perhaps as far as Sixth Street, brokers say. Typical sales prices last year for one- and two-family homes ranged from $1.3 million to $2 million, and occasionally more. The Park Slope Historic District overlaps some blocks of this area and extends beyond it to the north and east.
The slope of Park Slope descends gradually from northeast to southwest, leading to the terminology North Slope (from Flatbush Avenue to Union Street), Center Slope (from the south side of Union Street to Fifth or Sixth Streets) and South Slope beyond that. Residents of the southeastern part of the slope, near Prospect Park Southwest, know it as Windsor Terrace.
"Originally, everything south of Ninth Street was just 'South Brooklyn,' " said Billy Stephens, senior vice president in the Brooklyn office of the Corcoran Group. "In the mid-70's Park Slope went as far as 15th Street. As time went on, the whole South Slope became 'Park Slope.' "
Prices for existing housing in Park Slope typically diminish farther down the slope and farther from the park. Most houses have at least one rental. Resales prices for two-families distant from the park in the South Slope, for example, would probably be in a range of $700,000 to $800,000, brokers say. A two-bedroom floor-through condominium in the Center Slope between Sixth Avenue and Seventh Avenue might sell in the range of $550,000 to $650,000.
Native Brooklynites would be surprised to hear any of the blocks below Fifth Avenue defined as Park Slope at all. But the name seemed justified to Jean Miele, a landscape photographer who grew up in Park Slope and now lives in the Park Slope Estates condominium on Second Street between Fourth and Fifth Avenues.
Mr. Miele and his wife, Carol Guasti, were living the Chelsea section of Manhattan when they decided to move. Now they and their daughter, Cally, 12, live in an 1,800-square-foot duplex. "We needed more space and we're close to a great middle school — M.S. 51," said Mr. Miele, who is president of his condominium's board.
The man whose development work has been primarily responsible for expanding the concept of Park Slope to reach Fourth Avenue is Isaac Katan, the developer of Park Slope Estates. Either on its own or in partnerships, Katan Developers has put into construction 260 apartments in the area, mainly on side streets in attached four-story elevator buildings with eight units each. And Katan is in the design phase for about 400 more.
"We cultivated the edge of the neighborhood at a time when nobody wanted to move there," Mr. Katan said. New projects now in construction or design on or near Fourth Avenue will have a sales value of about $350 million, he said, and will transform parts of Fourth Avenue into "the Park Avenue of Brooklyn."
Park Slope Estates, with 38 condominium apartments in six buildings, was the first project of its kind in the area. Mr. Katan's partners in the project were Boymelgreen Developers of Brooklyn, which did the construction, and the Fatato family, prior owners of the land. Bricolage Designs of Borough Park was the architect of record, and Ken Yesmont of Manhattan was the design architect.
Other projects in construction for occupancy next year are City View Gardens, 46 units in five buildings on Second and Third Streets, plus 75 rental apartments in a 12-story building bordering Fourth Avenue; Park Slope Terrace, with 38 condominiums in a five-story elevator building on Sackett Street; and Park Slope Gardens, 30 condominiums in three five-story elevator buildings on Second and Third Streets. Two unnamed projects – on Dean Street, between Fourth and Fifth Avenues, and on Bergen Street, between Third and Fourth Avenues – will have a total of 36 condominiums in three four- and five-story elevator buildings.
"We will have 225 condominiums to sell in the spring," Mr. Katan said.
The sales agent for this inventory is Aguayo & Huebener Realty Group. In 65 sales of new housing for the Katan group and other builders in the last two years, Ms. Aguayo said, 40 to 50 percent of the buyers have come from outside Park Slope.
"Most are couples with a child already or planning a family," she said. The local schools have a high reputation among buyers, she said.
Katan partnerships are designing 10 additional developments on or near Fourth Avenue, Mr. Katan said. They will produce close to 600 housing units. Six of them will have frontages on Fourth Avenue, with residential entrances on a side street, and some will have 100 apartments or more. As the new zoning provides, the typical Fourth Avenue building will rise in a street wall of 80 or 85 feet — eight floors — and then set back for a four-story element. It is too early to report the precise sites, Mr. Katan said.
Mr. Yesmont, the design architect for most of the low-rise projects, said he tried to fulfill the goal of transporting Park Slope charm to the area with the use of copper mansard roofs, limestone arches at the entrances, smaller arches at the parapet level where the roof starts, and curved railings on the outdoor terraces.
"The colors of brick reflect the colors of surrounding buildings," Mr. Yesmont said.
Bricolage Designs of Borough Park has been the architect of record for many of the current projects in Park Slope and elsewhere in Brooklyn. Henry Radusky, the principal in the firm, said that over the next 12 to 18 months the eight that are recently completed or in construction by developers other than Mr. Katan would bring 200 new housing units to the market.
Several of these projects are single buildings that are higher than would be allowed under the April rezoning. For example, there is a seven-story two-building project on the southeast corner of Fourth Avenue and President Street, nearing completion, that would be two stories too high in its President Street element, but conforming along Fourth Avenue if it had been designed under the new zoning rules. The builder is Zoriano Inc. of Brooklyn.
Another builder is the Goldmedal Group, in which Mendel Goldshmid is a principal. Goldmedal is in midconstruction on a five-story 30-unit condominium on 15th Street between Seventh and Eighth Avenues, with occupancy expected next summer. There will be three entrances to three connected elevator buildings. It will have a landscaped backyard of 4,000 square feet.
At 101 Prospect Park Southwest, a new 15-unit six-story building shaped like the Flatiron Building in Manhattan, caused local controversy as a view blocker before construction. Nearing completion, the condominiums sold out at an average price of $400 a square foot, the developer, Manny Reiner, said.
NOT all has gone smoothly in the new construction. At Park Slope Estates on Second Street, Mr. Miele, the president of the condominium association, spoke of excessive delay in fixing roof leaks that have been persistent for more than a year. "It's been a struggle, and it's still not quite complete," he said.
The builders, meanwhile, are trying to attract buyers from Manhattan. Representative of these buyers in recent weeks were Lara Eshkenazi and James Matheson, a couple who were living in cramped space on the Upper West Side of Manhattan. They have gone into contract on a two-bedroom three-bath apartment with 1,500 square feet of space on Sackett Street, for occupancy early next year. Its price is $590,000.
"We couldn't get the same space for that money in Manhattan," said Ms. Eshkenazi, a lawyer who works downtown. "And we have friends who settled in the neighborhood. They love it."